Contact Brook at:
info(at)magicbrook(dot)com
MUSIC BIOGRAPHY

Music reflects the human spirit—it is a core element of our lives, a constant source of inspiration for most and the lifeblood of one Magic Brook, musical journeyman, roving guitarist and occasional activist.The Bay Area musician defies labels and genres with his soulful acoustic guitar work and unique blend of sounds. Brook's fluid two-hand guitar technique, percussive use of the instrument and blending of styles enables him to create his own intriguing brand of powerful acoustic music, merging rhythm and melody to create truly magical sounds on the acoustic guitar.
Magic Brook is one of those artists whose music transcends traditional terminology. He consciously crosses from one interconnected genre to the next, utilizing grooves, structure and improvisation in all their fundamental glories as he lets the music lead him wherever it ventures. This gratifying combination of energies and exploration is on full display on Brook's fine, new collection of finger-style solo acoustic guitar, The Source—Two Hands, One Guitar (Melusine Records), which has already charted in the top 15 on the New Age/Ambient/World Radio Charts.
"I'm a synesthete," Brook relates, "aural experience is cross-wired to touch sensation in my body so I get sensory experience from music that is undeniable, physical and involuntary."
That tuned-in sensitivity translates into a more enhanced acoustic sound for Brook as he injects infectious rhythms into undulating melodic and harmonic progressions. The Source is Brook's third solo album, and is steeped in finger and slap-style acoustic guitar work that is alternative yet comfortably familiar, experimental yet sophisticated. Brook utilizes such techniques as percussive slapping, tap guitar and the split, two-hand approach, all of which offers the listener an immediate diversity for an album of solo acoustic guitar.
With a background in blues, jazz and roots music, as well as music from all over the globe—especially the rhythms of the African Diaspora—Brook was essentially raised on world music as opposed to the more limiting constraints of western pop music. Early on, Brook played with many talented jazz and blues musicians and soon found himself literally playing with rock and roll legends, performing a stint with Bo Diddley and also backing up Chuck Berry in one of Berry's trademark pickup bands he uses as he goes from town to town, something Brook himself has emulated. "Keeping a band together is very difficult," says Brook. "I use pick-up bands on the road a lot—learned that from Chuck Berry!"
Having such a wide-ranging and diverse pallet, Brook has been able to capture this open-minded approach in his music with each new recording. The Source is playful and adventurous, Brook's skillful playing continually gives the listener variety and hooks to latch onto—the endearing "Fetch!," with its strong rhythm, gives way to dense pieces like "Soul Art Dance," which recalls the virtuosic guitar work of Michael Hedges or Alex De Grassi. Brook then delves deeply into wide dreamscapes on such pieces as "Andalusian Fantasy" and the 14-minute "The Awakening." Brook's first album, The Great Blues Sea, from 2004 and the follow-up, Love Like A Stream (released in 2005) both offer a similar variety of textures and rhythms from introspective love songs to swampy acoustic blues like the number, "Summerland."
"Music is an expression of the essential divine nature of the universe," Brook says. "I believe that divinity is manifest in the physical world, that the physical is divine and I can see this divinity in all of creation."
As his fans well know, Brook—who is also known to cross lines to join anti-nuclear and anti-war demonstrations—performs with the profound vigor of genuine and unlimited artistic exploration, a key element to true improvisation. It's a spiritually-enhanced, open-ended approach all too absent from the mainstream.
"There is a river of music below human consciousness," he says. "This is the divine music. When I can open myself deeply and clearly enough, I am simply the channel. This is easier to say than to do, but that is the goal—to get out of the way of the music coming through."
Magic Brook is a musical gypsy with the experience and intuition to get of out of the way so his music can shine through for it is as honest and soulful as the earth itself and his journey continues as he travels the world ever-seeking that ever-elusive concept known as The Source.
--Roger Len Smith, May, 2009

---
...great facility, I really dig (his) playing! -- Kenny Burrell
...(he's) really got the blues!
-- Richie Cole
Magic Brook has played for and with some big names, Bo Diddley, Chuck Berry. Laurie Lewis, among others, in many musical genres, folk to jazz. He draws upon a large repertoire of styles and genres.

Since the release of his first solo album, Brook has been consistently touring in the United States and Western Europe as well as appearing as a Featured Artist at the Zihautanejo International Guitar Festival in March 2006.

Magic Brook is currently highlighting his acoustic fingerstyle solo guitar collection, "The Source". "The Source" features alternative and experimental fingertyle acoustic guitar techniques such as the use of percussive slaps, tap guitar, split hands, and also includes techniques not usually associated with fingertyle as Flamenco rasgueados. These techniques enliven the 7 musical journeys in the collection.

He has worked with roots greats Bo Diddley and Chuck Berry, and he has supported numerous national and local musicians in just about every American musical genre from folk and blues through jazz, swing, rock, funk, soul, and country: Anne Hill, Linda Hirschorn, Mokai, Opie Bellas, and T. Thorn Coyle, working in bands with players like Laurie Lewis, Michaelle Goerlitz, and Bruce Langhorn, among others.

"The Source" was on the New age/ambient/world international radio chart for 30 weeks, placing #14 in November and finishing January, 2009 at #18. Brook's song, "12 Long Years" (co-written with Bernie Gilbert) hit #2 on the Broadjam top ten in the Chicago Blues category <www.broadjam.com> on December 11th, 2006. "12 Long Years consistently appears in the top ten. Broadjam ratings are based upon the reviews of the participants.

In the same week, iSound placed 2 of Brook's recordings into it's blues radio rotation. There, you can hear Brook's take on the perennial favorite, "Gambler's Blues" (listed third) and "12 Long Years" (listed fifth). <www.isound.com>.

And, Brook was an "Artist of the Month" for K&K Sound in January, 2007. <http://www.kksound.com/aotm/artistofthemonth0107.html>

His recordings can be heard on Internet stations like soungvault.fm & Split Open and Melt Radio. And he can be heard on radio stations in the United States and Western Europe, notably: Barcelona, Spain, ALOOGA Radio in Germany and Radio SINAI in Belgium, and all over the United States.

While teaching jazz improvisation at Cuesta Community College in San Luis Obispo, as well at the University of California Los Angeles, he played with many of the premier blues and jazz groups and performers in the area. Among them San Luis Jazz, Avanti, Dorsey band alumnus Marty Wright, former Birdland pianist Fletcher Peck, Motown recording artist Renaldo Jackson, and the Montreux Jazz Festival Award winning Cuesta College Community Jazz Band.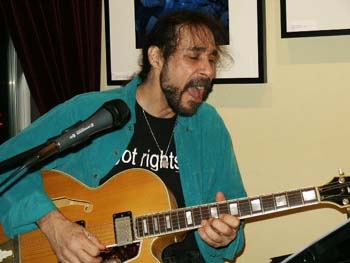 Photo by Nomad, 12-10-2004
Brook's music reflects his activism: among his original material are songs about social justice, grass-roots action, peace and environmental awareness. Additionally, he has worked with many groups internationally as a facilitator and consensus trainer.

...(he's) really got the blues!
-- Richie Cole
Brook also has deep roots in movements for peace, justice, and to protect the environment. He has worked with many groups internationally as a facilitator and consensus trainer.